Today was a gorgeous day on the oyster farm: hot with the perfect hint of north breeze. It's a welcome change after the gray, rainy and cold weather we've had the past couple of weeks. Just in time for the good weather: our  barbecue/picnic area is now up and running. Hmm… who will be the first to use it???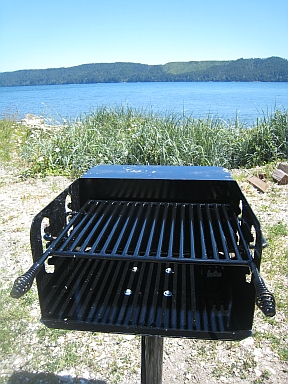 These barbecues are way too clean.
UPDATE: This post was sadly lacking in useful information. The barbecues are first come first served and are free to use during store business hours (9:30 to 5:30). So, plan on having a lunch party, not a dinner party. Bring your own charcoal, lighter fluid, and grill utensils, because we don't currently have any for sale in the store. Things that we do have: oysters, clams, and yummy fresh wild sockeye salmon to grill up for lunch. For more information give us a call 888-877-5844.