While cleaning the seed racks Nathan stumbled upon a covey of molted (and apparently very sociable) hairy hermit crabs.
httpv://www.youtube.com/watch?v=FRvlOGus0vU
Hermit crabs have soft, curled abdomens that have specialized pads on them to keep the crab in place once inside a shell.  They molt and change shells as they grow larger, and they mate during the molting season (which may explain the goings on of this group). We've found them in periwinkle, moon snail, and drill snail shells. (Read our earlier post about hairy hermits here).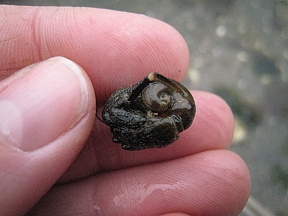 Parting shot of the molted hermit crab.
One of the hermits was happily and safely lodged in a discarded drill snail shell. He was also much larger than the other hermits. If you look closely at the photo below you can see his eyeball peering up at you. (The eyeball is directly opposite the big claw).